Our Empty Bowls "Soup 'n More" fundraiser will happen January 14, 5-7 p.m. at the Lander Senior Center.
Empty Bowls is an international grassroots effort to fight hunger and was created by The Imagine Render Group. The basic premise is simple: Potters and other craftspeople paint or create soup bowls. Guests are invited to a meal of Soup'n More. In exchange for the ticket price, guests are asked to select and keep a bowl as a reminder of all the empty bowls in the world. The money raised is donated to charity—in Lander, to the Lander Care and Share Food Bank.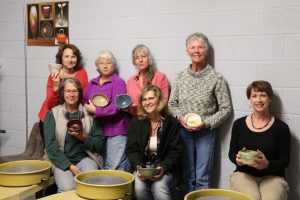 One of a kind, handmade bowls have been donated to this year's event by Deb Britt, Shawna Pickinpaugh, Carolyn Orr, Donna Yost, Majelle Lee, Pam Spencer-Hockett, Cristin Zimmer, and Joy Jones, all members of the POWR (Potters of the Wind Rivers) Group. Some examples of the bowls will be on display at the Lander Library January 2-12.
The collective genius of all the people involved has made Empty Bowls what it is today. Events have now taken place across the United States and in at least a dozen other countries. Many millions of dollars have been raised and donated to hunger-fighting organizations.
Tickets are $35 per person, and can be purchased at the Lander Care and Share Food Bank, 281 Garfield, 10:30 a.m.-12:30 p.m. Tuesday-Thursday and 5-6 p.m. Thursday. For more information call 307-349-5509.  Please use the buttons below to share this announcement on Facebook, Twitter, and Google Plus.